The youth club that saved a forest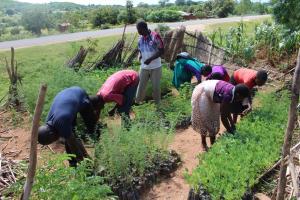 As is the case throughout Malawi, deforestation is rife in Phalombe. In Chingazi village, people were cutting down trees in the Michesi Mountain for charcoal and firewood at an alarming rate, which was impacting the water catchment and leading to the drying up of wells.
Chingazi youth club, made up of 30 members, decided to take action in order to curb these problems. They bought 3,000 tree seedlings in 2015, when the group formed, and planted them in Michesi Mountain. However, only 700 trees survived was because the youth club lacked skills in tree management and did not have the necessary tools to care for the trees, such as shovels, watering canes and wheelbarrows.  In 2016 the youth club approached the District Forest Office (DFO) to request training in tree management and for the tools, who in turn approached United Purpose for assistance. Together, they trained all 30 members of the youth club and UP provided 2 watering canes, 4,000 tree seedlings, a wheelbarrow and 2 shovels.
The youth club planted the 4,000 tree seedlings in the same Michesi Mountain forest. Out of the 4,000 tree seedlings planted, this time 3,997 survived. The trees have grown and the water catchment is recovering. "Since we planted the trees two year ago we have seen many improvements to the environment – the water levels in Nachimba River are high once again and there is also vegetative cover in the Mountain because of the trees we planted'' narrated Charles Goodson, chair of the youth club.
In order to protect the trees in the mountain, the youth club engaged the chief and community members to make by-laws to ban deforestation. For example, by laws include banning people from entering the Mountain forest without permission and banning domestic animals such as goats and cattle from grazing on the mountain; the penalty is a fine of MK3000 or a goat.
"In order for us as a club to properly manage the forest we have a duty roster where we each have responsibilities, such as watering the trees" narrated Memory Hendrons, vice chair of the youth club. The youth club also involves the community with guidance from the chief during annual tree planting days. "In five years to come, I expect to have a thick forest in the Michesi mountain and am very delighted by what Chingozi youth club has achieved in bringing Michesi mountain forest back to life" narrated chief Lipa of Chingazi village.