Using data and innovation to full effect: iDE's program in Cambodia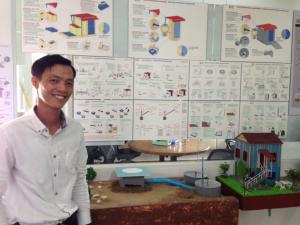 "Our latrine sales closing rate used to be 27%, now it's more like 12-13%. We also know that the closing rate is higher for full-time sales agents than those on commission," says iDE's sales unit manager, Klann Mab.  Mr Mab is describing iDE's latrine sale and sales team trends over the last three years and points to a poster he has prepared for a recent Fund monitoring trip. What is striking about this poster, and all five posters prepared by iDE staff, is the great use of data.
Data analysis has enabled iDE Cambodia to identify the emerging issues of approaching market saturation for their low cost 'Easy latrine' and sales team turnover and come up with program adaptations. To the issue of decreasing sales iDE has developed a payment instalment plan mechanism and tested a pro-poor 'smart' subsidy. For sales staff retention in the context of decreased sales commissions, iDE has shifted to providing the majority of its sales force with a salary. 
iDE invested in real-time online software (Taroworks and Salesforce) to track sales, closure rates, non-sales, etc. The data has proven useful not only for tracking and managing sales and deliveries, but also for the iDE team more generally as a management tool for programming.
The iDE WASH-SUP project is a good example of learning embedded in activities and programming. The project stands out in the portfolio of Civil Society WASH Fund projects for its high volume, high quality pilot studies, innovations and knowledge and learning products. Most of these revolve around iDE's sanitation marketing approach. The project has produced 179 knowledge and learning products over its four-year program. It has also pursued at least seven innovations and innovative adaptations of existing solutions, which include:
There are many issues that iDE is still tackling, such as: why do some people buy latrines but not use them? How can a SanMark work towards holistic WASH including hygiene behaviour change? What is the market for safe sanitation? Are women empowered by involvement in sanitation supply chains?
What iDE has demonstrated in WASH-SUP is a willingness to identify, acknowledge and study challenges. Observations on some of the secrets of this success are: 
Regular real-time data collection made accessible to all team members helps with program decision making. 
iDE set themselves an ambitious plan for K&L, stuck to it and even added studies when new issues emerged.
iDE has a culture of questioning, testing and learning including an annual learning retreat. Leadership in-country and globally supports this culture of inquiry. 
Photo:  Lim Pisey, iDE Engineer, in front of the numerous latrine and shelter designs developed by iDE Cambodia. Credit: CS WASH FMF/ Bronwyn Powell