Local savings groups make latrines more affordable for poor families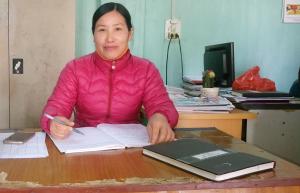 The month before Tet (the Vietnamese New Year festival) is usually a very slow time for latrine sales. Tet is the most important holiday in Vietnam, and many people spend the holiday visiting family and enjoying celebrations over several days. Before the holiday, farmers are busy in the fields or preparing for the festival. No one thinks of buying a latrine! For most government officials promoting sanitation in the rural areas, there is almost nothing to do.
However, Ms. Nong Thi Ngoc, head of the Women's Union of Kim Phu commune in Tuyen Quang province is an exception. She spent the month before Tet traveling and speaking with other Women's Union members about an idea she had to make latrines more affordable to poor families. Applying her training from iDE, Ms. Ngoc collaborated with health workers in the commune and redoubled her efforts to help other Women's Union members promote sanitation. She has even been sharing their progress on her Facebook page!
Despite being a large commune located just 15 minutes from the provincial capital, only 42 percent of Kim Phu's 2,700 families own a hygienic latrine and 10 percent of households are living below the poverty line.
"Owning a hygienic latrine is always a dream of any family. However, to many poor people, it still is a big investment. They say they have to discuss it with their husbands, or they will wait until they have enough money." Ms. Ngoc told us.
Ms. Ngoc was not satisfied that it was so hard for poor families to afford a latrine, so she recommended creating local savings groups. In these groups, 10 families contribute 200,000 – 400,000 VND every month toward the purchase of a latrine. Every group has at least one poor family, and this household receives the first latrine. Within a year, every household in the group will be able to build a latrine from the collective savings.
The first group formed in October 2016 and to date, nine groups have been formed. Ms. Ngoc hopes to form 11 more groups in her commune this year, reaching an additional 110 families. She is even more excited to share this idea with others. She says, "I've discussed this idea with [Women's Union] members in the meetings. That's why I have traveled a lot recently to the villages, though Tet is coming soon."
Her idea is getting noticed outside of Kim Phu as well. Ms. Nhan, the vice head of the provincial Women's Union noted, "It's a very creative idea. We will definitely work with other districts to replicate this idea so that many other families will have a hygienic latrine."